At Island House, we invite you to join us for exciting activities!
The eye-soothing color combination of rich aqua and offwhite shades along with the greeneries of tropical plants will take you back to the idyllic times, complementary to the Goan hospitality of serving delicious food with accommodations in well-furnished rooms and dining area.
Read a novel, practice journaling, or sip a cup of tea or coffee with ear luring humming of birds. In addition to its beauty is the tranquil nature of Divar Island which is surrounded by the rhythmic Mandovi river. A  place that heals you with minimalism. The magnificent Divar island comprises a vast land with Goa's tropical climate dancing on its full fervor. Hear the koos, drummings, and whistle-rustle of birds near Mandovi river. The island is an infamous Eden of lost Ganesha temples, old Indian dynasties, and rustic Portuguese churches. The island connects with old Goa and its history, making you see the completely opposite peaceful side of Goa away from the noise of modernity. The island makes a visitor envelope a newer dimension, a more tranquil and purified by nature location. A soothing island to explore with your family, friends, or even with your own company.
Unburden yourself by diving in the everclear swimming pool by enlivening the swimmer inside you. Our services provide a personalized pool experience that assures to guard your privacy without any disturbance. The poolside dinner is another element that makes your stay worthwhile, comfortable, relaxing, and memorable.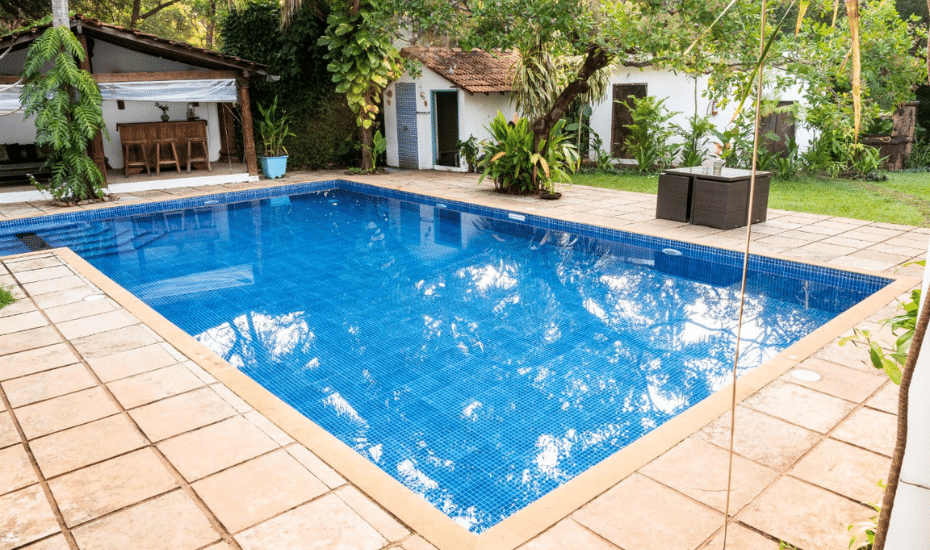 Explore the rare tropical flora and fauna of Divar Island with serenity of river Mandovi. While staying at Island House, you can travel to Panjim which is just 10 km away from the location of your stay. Wander in the lanes, discover the local markets which will help you understand the soul of Goan hospitality and culture. Take your expedition ahead, unfold the rich history of Divar Island by visiting old temples, churches, and historically rich sites.
Enjoy the Goan hospitality at Island House! By curating dishes using fresh produce and vegetables from local farms, our expert chefs make sure to create a delectable meal experience for you. Our dishes implement the perfect sauté of spices with unique Konkan ingredients. A hearty Breakfast, scrumptious lunch, and satiating dinner will be served by the poolside table, where you can enjoy your meal in the midst of nature's melody.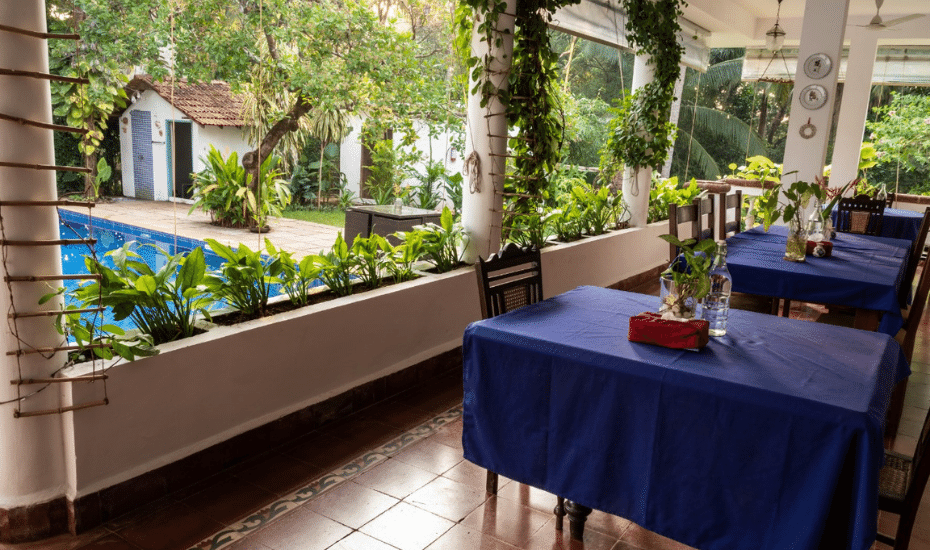 Read your favorite books in the peaceful environment of the Island House. In addition to the wide variety of genres available, you may also bring your own treasured books to enjoy in the library.
The commodious villa has a wide badminton court to enliven the shuttler inside you. Have a good belly laugh with your children, family, and friends while playing badminton until you are worn out. By providing its guests with a place to unwind and sense the real joy that had been missing from their lives, the Badminton court has captured the most memorable moments.