Our Approach towards our Guests
If you want a homelike accommodation far away from the hustle-bustle of the city then this villa is the place to go!
Preserving its heritage for over 100 years, the villa has maintained an eye-alluring architecture with breezy ventilation and a vast space of around 6000 sq ft. A perfect stay with your family. With a badminton court and swimming pool the place gives enough time to spend quality time with your friends and family. The food served is beyond marvelous, a hearty meal for all its guests is a priority.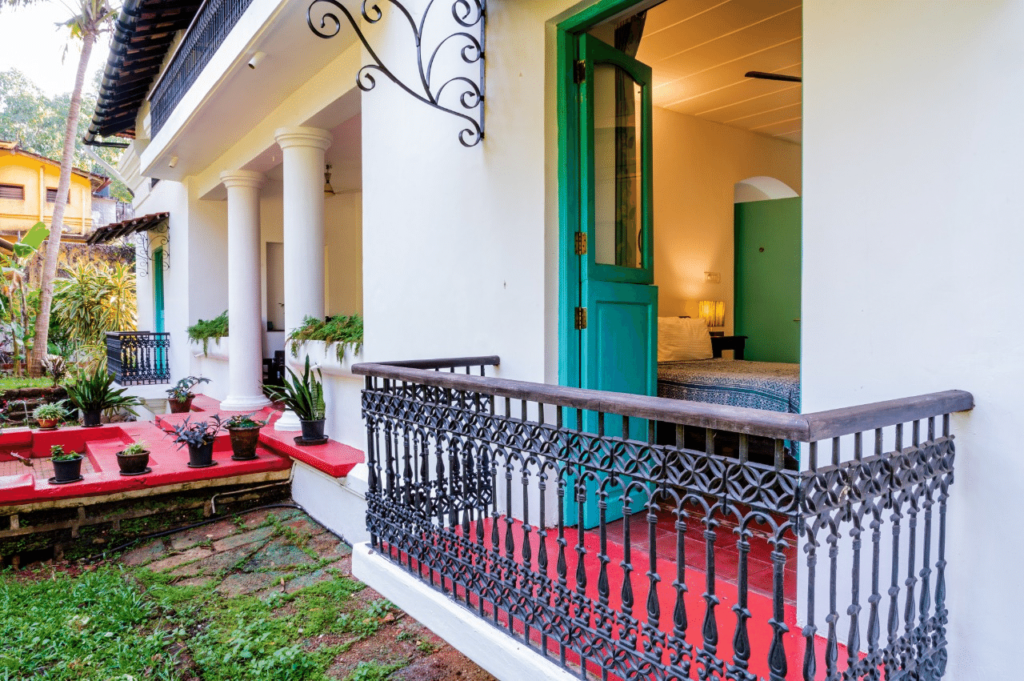 We have innumerable facilities to make your stay as comfortable as it can be:
Free Breakfast
Free Wi-Fi
Pet- Friendly
Swimming Pool
Badminton Court
Lunch & Dinner as per guest requirement Camilla Lindberg
Tranquil, charming place to stay. Divar is a very lush, quiet island - a very short distance away from Old Goa and the buzzing city centre. Walking down its roads, you'll see rows of colourful Portuguese-style architecture, and one of the most well-kept, beautiful facades belongs to the Island House. The owners treat guests as part of their family, and when we stayed there, we had nice long chats with them over breakfast... The food is great, spacious rooms are decorated with beautiful antique furniture, the communal lounge area has lots of interesting reading material and fun board games, the pool is clean, the rooftop is great for quiet morning yoga or a festive evening gathering under the stars.... I've only got good things to say about this place! 🙂 Shalini Kamboj
What a place!! A small paradise on an island. Absolute tranquility, great food, warm hospitality and the duo Jaya and Susan adding their love and care makes it absolutely magical. They go out of their way to help. Riding a ferry while sitting in your car to reach this place adds so much excitement. Binu Moothedan
The perfect holiday home to be at. Away from all the hustle bustle that we all want to run away from. Sip on urrak all day. Completely different than the usual commercial and typical resorts that everyone goes to. A natural swimming pool. Fresh produce everyday that decides a no-menu driven kitchen. Lovely laid back house, restored heritage feel with very warm hosts. Wish I knew of this place earlier. Am still in Goa in another resort but am looking forward to my next Goa visit already. Dinesh Kaulgud
I stayed at Island house for 4 nights as part of Bound writers workshop. The ambience of Island house is very soothing. The food cooked by Susan is brilliant - home cooked wholesome meals. The discussions with Jay on music were enlightening (he is passionate about Bob Dylan and it shows :-)). I look forward to visiting Island house again. To me - Divar island is like a place where the mad rush of progress stops. Island house is like an oasis of comfort in todays frantic life. If you enjoy waking up to the sound of birds and the feeling of time having slowed down; and if you enjoy home cooked food then this is the place for you. Gretel Fernandes
Portuguese house in the heart of Divar is a perfect getaway for a weekend with your loved ones away from the chaos and the city noise. The rates are reasonable inclusive of breakfast. There is a choice of either in house lunch and dinner which has to be informed beforehand or takeaways from nearby restaurants.